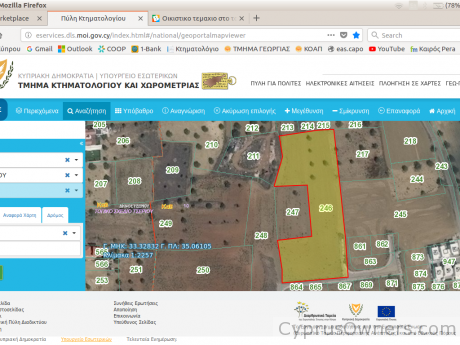 ---
Description
RESIDENTIAL DISMANTLING in MUNICIPALITY TSERIOU EXTENSION 8,993 SQUARE METRES IDEAL for LASH, or for ANY OTHER INVESTMENT. TONIZETAI HOW EFAPTETAI IN PUBLIC ROAD AND PERITRIGYRIZETAI FROM DIACHWRISMENA LAND SO ALL SERVICES (YDREYTIKO, ELECTRICAL, ROAD AND SEWAGE NETWORK) EFAPTONTAI. VIENNA ... IN ALL THE TAXES THEY CHARGED THE HOUSE.
IMMEDIATE TRANSFER Of OWNERSHIP TITLE & SEC../FIG. 30/45W1, SECTION 10, no. PCS. 246, P.Z. Ka8
---
Property Plans
---
Location
Tseri, Nicosia Region, Cyprus
Address
Analionta Parodos
Property Title
Yes. Title isn't shown to everyone, please contact the property owner for the reference to the title.
---
Price
For Sale
420 000 EUR Total
≈48 EUR Per meter
---
Main features
Water supply
It's possible to connect
Electric power supply
Ability to connect
Downhole
The possibility of installing unknown
---
More features
---
Public contacts
For more information of the Owner you have to
register
on the site or login: